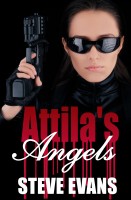 Terrence is elbow deep in the search for the legendary – and lost – tomb of Attila the Hun. He and his partner Simone have a clever method that is sure to yield results – that is until his dead wife Zoe returns and throws a cog in the works.
As a ghost, Zoe can come and go when she pleases. But she's not the only one. In the afterlife she's found herself trapped with a little group of spirits including a former nazi, a dead Russian commander and none other than Attila himself. What is it they all have in common? The missing tomb of course!
Terrence soon learns that he's not the only one hunting for it. A cast of characters, both living and dead, have great interest in the missing tomb, said to be made of gold and silver. It's the ultimate treasure hunt, and it just may drive the participants to madness or death.
This is one of Steve Evan's best books, in my humble opinion. It has everything; ghosts, violence, sex, blood, murder, mystery, and history. He has woven together several different characters, and time lines, to create an exciting tapestry that kept me turning the figurative pages. Five stars!