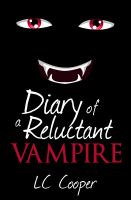 I've had this book on my kindle for awhile and kept meaning to read it but there was always something going on; finally I said "No more! I will read this or else!" And I'm glad I did.
LC's humor, seen in her myriad short stories, gets to shine through in this vampire parody. Eugene (whose initials spell EEK) is not your average junior high kid. Plagued by bullies, embarrassed by his step mother, and adept at clumsy escapades, Eugene is famous throughout the school for his humiliating hi-jinks. His life can't get any worse.
But of course, it can.
Eugene (literally) runs into a kooky old vampire who accidentally bites him. Trapped in the change, Eugene tries to find a way back to humanity before it's too late.
Though most YA books are predictable, this one had many surprises hidden among the laughs. I won't spoil it, but suffice to say there were several scenes I did not see coming.
If you're looking for yet another serious YA vampire story then give this a miss, but if you want something that not only pokes fun at the genre, but manages to hit werewolves, diary stories, and about every other YA book out there, give this a read.